One night many years ago, a colorful musician by the name of Nicolo Paganini played his violin for a packed out concert audience. Right in the middle of a particularly difficult number, one of his strings snapped and fell over the side of his instrument. Beads of perspiration dotted his forehead. He frowned. But Paganini continued to play.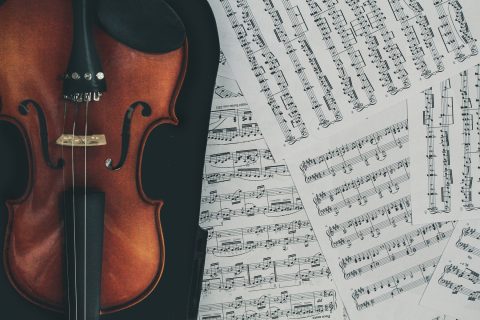 As Paganini improvised his way through the rest of the song, another string popped, and then another. Now there were three strings dangling from Paganini's violin. As the master completed the difficult number on the one remaining string, the crowd went wild. They filled the concert hall with shouts and screams.
As the stand ovation began to settle down, Paganini motioned for the people sit down. As they sank into their seats, they know that there was no way they could expect an encore. Paganini held the violin high for everyone to see, nodded to the conductor to begin the encore, and then turned back to the audience. With a twinkle in his eye, he shouted, "Paganini and one string!" And with that he placed the single-stringed Stradivarius under his chin and left the conductor, orchestra, and audience shaking their heads.
Paganini and one string!  And I might add, an attitude of fortitude.
Words can hardly begin to describe the power of our attitudes. Once I have committed my life to Jesus first thing in the morning, the single most important decision I can make is my choice of attitude. My attitude is more important than my history, academic degrees, the size of my paycheck, my reputation in the community, or my life circumstances. Attitude is the single string that keeps me going or brings the curtain down in defeat.
In the gospel record, Jesus launches the Sermon on the Mount (Matthew 5-7) with what I call the Be Attitudes. He begins this most memorable message with our mindset, because it is our attitude  that will determine our success in life.  There are eight fundamental attitudes that Jesus identifies here:
An Attitude of Humility: Blessed are the poor in spirit, for theirs is the kingdom of heaven.

An Attitude of Honesty: Blessed are those who mourn, for they will be comforted.

An Attitude of Balance: Blessed are the meek, for they will inherit the earth.

An Attitude of Openness to God: Blessed are those who hunger and thirst for righteousness,for they will be filled.

An Attitude of Compassion: Blessed are the merciful, for they will be shown mercy.

An Attitude of Purity: Blessed are the pure in heart, for they will see God.

An Attitude of Peace Making: Blessed are the peacemakers for they will be called the sons of God.

An Attitude of Fortitude: Blessed are you when people insult you, persecute you, and falsely say all kinds of evil against you because of me. Rejoice and be glad, because great is your reward in heaven.
Your attitude will determine your altitude, and just how far you will go in life, relationships, work, and ministry. I encourage you to keep a positive, Christ-centered attitude through it all.